Jim Dalrymple, reporting for The Loop:
Apple on Tuesday sent out invites for an upcoming event happening in San Francisco on September 12, 2012. The invitation I received says the event will take place at the Yerba Buena Center for the Arts at 10:00 am.

It is widely expected that Apple will announce its next generation iPhone at the event.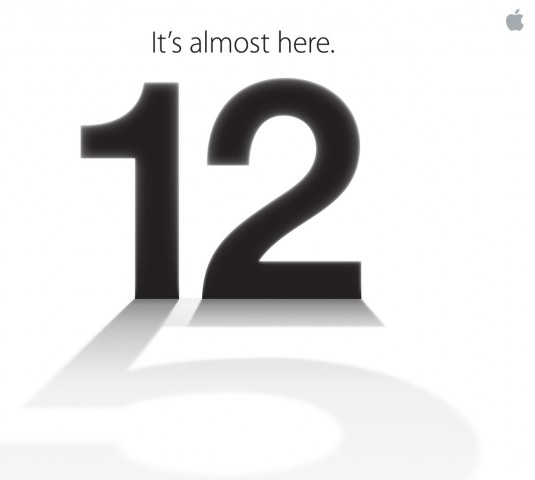 As John Gruber notes, if the shadowed '5' is any indication, Apple could very well name the sixth-generation iPhone the 'iPhone 5'. As MG Siegler writes, that may not be such a bad idea, even if it's technically incorrect.
Speaking of the new iPhone, I stopped into my local, newly-relocated AT&T store after work today to inquire about the difference between a "full" upgrade from the so-called "discounted" one the carrier claims I'm eligible for. An employee I talked to said this "discounted" upgrade meant that I'd have to pay an additional $250 on top of the regular price of the phone. Whereas a "full" upgrade, he went on to explain, means that I'm eligible for the subsidized, regular price. In other words, were I to opt for, say, the 32GB model iPhone 5 at $299, I'd have to tack on another $250 to upgrade. Also, the guy confirmed that my "full" upgrade qualification doesn't kick in until next May. Regardless of how much of an Apple nerd I am, the bureaucracy of my situation effectively kills my odds of upgrading this year. As cool as the new model will likely be, I'm not paying $500+ for it when my 4S runs perfectly fine (and gets all of iOS 6).
Knowing I'll be staying true to my word kinda tempers my excitement for next Wednesday's event, but it's okay. I'm still excited to watch the keynote, and I'll be sure to check out the new phone in person once it's out.